Categories
- Benches
- Birdhouses
- Breadboxes
- Chalkboards
- Clocks
- Craft Supplies
- Cupboards
- Furniture
- Kitchen & Bath
- Ladders
- Lamps
- Misc Products
- Saltbox Houses
- Seasonal
- Shelves
- Shutters
- Signs

- Custom Orders
- Color Chart
- Top Sites
- Links
Customer Comments
"My lighted house arrived today and it looks wonderful! It's just what I wanted for my kitchen. I can tell your products are very well built."
-Jennifer MD

"I just received my wholesale order. Thanks for the great customer service and quick ship time."
-Linda OH

Monthly Newsletter
Signing up for our newsletter is simple and well worth it. If you want specials, discounts, and much more sign up today by clicking here.

Payment Method
We accept all major credit and debit cards and paypal. Plus checks and money orders.


Country and Primitive Birdhouses

Our birdhouses are made from new pine plywood and then distressed to create a weathered look that is very appealing. Many techniques are done to give the pieces an aged look. We will be adding many new styles so check back often.



Custom Birdhouses that look like your home!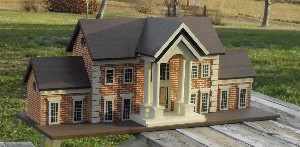 Click Picture to see more photos and pricing!


Barnwood birdhouses are back at The Birdhouse Barn! We were able to salvage some beautiful wood from a late 1700's tenant house located at a old mill in West Virginia. The wood was found in the Shenandoah valley of West Virginia. The wood is a white barn wood that has a lot of patina and age. They make great heavy duty birdhouses and wonderful decorations for inside as well. Shop now before they are gone!





Click image to enlarge

The Barnwood Cabin

We have a limited amount of barnwood birdhouses available now. This one is our cabin complete with a chimney on the left side. It stands 14" high 7" wide and 7" deep. (Pictured: White Barnwood)

Price: $75.00





Click image to enlarge

The Barnwood Cottage

We have a limited amount of barnwood birdhouses available now. This one is our cottage. Add it to your garden for the perfect accent. It stands 10" high 7" wide and 7" deep. (Pictured: White Barnwood)

Price: $75.00





Click image to enlarge

The Chimney Sweep

We have a limited amount of barnwood birdhouses available now. Our chimney sweep model as a beautiful design with a mini birdhouse and also a wood shed. It stands 16" high 12" wide and 7" deep. (Pictured: White Barnwood)

Price: $75.00





Click image to enlarge

The Shenandoah

We have a limited amount of barnwood birdhouses available now. The Shenandoah model is a great birdhouse. Named after the valley in West Virginia where the wood was found. It stands 12" high 7" wide and 7" deep. (Pictured: White Barnwood)

Price: $75.00





Click image to enlarge

The Opequon

We have a limited amount of barnwood birdhouses available now. The Opequon birdhouse is named after a stream near the mill where the barn wood was found. It stands 12" high 16" wide and 7" deep. (Pictured: White Barnwood)

Price: $75.00





Click image to enlarge

The Cape Cod

We have a limited amount of barnwood birdhouses available now. The Cape Code barn wood birdhouse is a beauty. It features two dormers on the roof. It stands 12" high 12" wide and 7" deep. (Pictured: White Barnwood)

Price: $75.00





Click image to enlarge

Colonial Primitive Birdhouse

This beautiful saltbox style colonial house will make the perfect accent for your primitive garden. It stands 16" high 20" wide and 11" deep. (Pictured: Almond)

Price: $199.99





Click image to enlarge

The Spring Cottage Birdhouse

With only a few logs left from Winter, we bring you the Spring Cottage. The perfect model for welcoming your birds back. It stands 13" high 12" wide and 5" deep. (Pictured: Buttermilk Only)

Price: $69.99





Click image to enlarge

Lighted Star Birdhouse

If you like primitives you will love this country birdhouse! It is distressed in your choice of color and comes with grapevine wrapped around it. It features a star cutout that lights up when plugged in. It comes with a white roof unless another color is specified. It stands 10" high 6" wide and 6" deep. (Pictured: Mustard)

Price: $69.99





Click image to enlarge

4 Room Birdhouse

This beautiful birdhouse is huge! It features four rooms (only 3 are pictured). It comes in buttermilk and you can choose your roof color. It stands 16" high 19" wide and 14" deep. (Pictured: Cranberry Roof)

Price: $169.99





Click image to enlarge

The Woodshed

The first birdhouse in our 2009 Christmas Collection is The Woodshed. It has a warm and cozy look that any bird would enjoy. Your birds will have no problem staying warm this winter! It features a country paint finish with a cedar roof and bottom. It stands 14" high 8" wide and 12" deep. (Pictured: Sage Green)

Price: $79.99





Click image to enlarge

The Yukon

The Yukon is one of our best sellers.This three room birdhouse is a great home for any bird.It is very attractive both indoors and out.The wood is made to look like antique barnwood. It stands 14" high 14" wide and 7" deep. (Pictured: Buttermilk)

Price: $69.99





Click image to enlarge

The Potomac

This birdhouse house is simple in design yet unique and attractive.It's size will make it quite easy to fit in the smallest spaces of your home or garden.It is distressed to resemble barnwood. It stands 10" high 7" wide and 6" deep. (Pictured: Cranberry)

Price: $49.99





Click image to enlarge

The Old Mill

The Old Mill is one of our most popular models.This two room birdhouse will make any of your feathered friends happy,it also looks great inside.Try putting it on a fireplace mantle with winter berries surrounding it. It stands 14" high 11" wide and 8" deep. (Pictured: Buttermilk)

Price: $49.99





Click image to enlarge

Barn Birdhouse

Our barn birdhouse is perfect for the farm! It features lots of rusty stars on the roof and on the front and comes in barn red. It is made from 3/4" Pine. It stands 12" high 12" wide and 5" deep. (Pictured: Cranberry)

Price: $69.99





Click image to enlarge

Rusty Star Birdhouse

This unique house comes will lots of primitive stars. It has three rooms for your birds. It also look great inside wrapped with grape vine. It comes in buttermilk and you can choose your roof color. It stands 12" high 12" wide and 5" deep. (Pictured: Cranberry Roof)

Price: $69.99





Click image to enlarge

Two Room Birdhouse

This double room house will make a great addition to your country landscape. Place it near a beatiful bush for a unique outdoor look. It is made from 3/4" Pine. It stands 12" high 12" wide and 5" deep. (Pictured: Buttermilk)

Price: $59.99





Click image to enlarge

Small Star Birdhouse

This little birdhouse is so cute! Use it in the smallest spaces of your home. It stands 6" high 5" wide and 4" deep. (Pictured: Buttermilk)

Price: $19.99




Click image to enlarge

Mini Birdhouses

These little mini birdhouses are great for craft projects, wreaths, gift baskets, flower arangements, and more! You can order them plain, as a magnet, and christmas tree ornament. They measure 3" high 2" wide and 1" deep. (Pictured: Buttermilk & Sage Green)

Starting at : $4.99