Categories
- Benches
- Birdhouses
- Breadboxes
- Chalkboards
- Clocks
- Craft Supplies
- Cupboards
- Furniture
- Kitchen & Bath
- Ladders
- Lamps
- Misc Products
- Saltbox Houses
- Seasonal
- Shelves
- Shutters
- Signs

- Custom Orders
- Color Chart
- Top Sites
- Links
Customer Comments
"My lighted house arrived today and it looks wonderful! It's just what I wanted for my kitchen. I can tell your products are very well built."
-Jennifer MD

"I just received my wholesale order. Thanks for the great customer service and quick ship time."
-Linda OH

Monthly Newsletter
Signing up for our newsletter is simple and well worth it. If you want specials, discounts, and much more sign up today by clicking here.

Payment Method
We accept all major credit and debit cards and paypal. Plus checks and money orders.


Our primitive beds are handcrafted and built to last for generations. They come in many sizes from Twin, Queen, Full, King and California King.

Available as pencil post bed and also with a canopy. We can also do cannonball beds and other post designs. Our beds are shaker inspired with 17th and 18th century designs. They come in our signature distressed paint finish.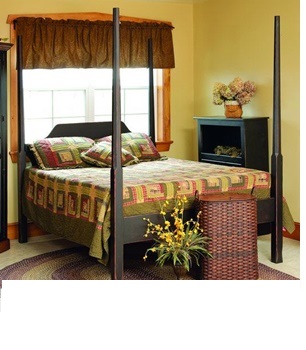 Primitive Bed IN STOCK Size : Queen Black Finish - $2,400.00
Canopy Bed Pencil Post

Other Sizes Available contact us to order Full , Twin, And King size beds. Distressed beds with primitive finish.